---
Who We Are
Thomas Jefferson Science Olympiad (TJSO) is a nationally competitive high-school organization, composed of three 15-member teams. We're the official Science Olympiad team of Thomas Jefferson High School for Science and Technology (TJHSST), a STEM magnet school in Alexandria, Virginia, just outside of DC.
What We Do
Events
Each of our teams compete in 23 events, with topics ranging from electromagnetic waves and ecosystems to cell biology and cryptography. Every team member gets to do 3-4 events.
Competition
Each year, TJSO participates in invitational, regional, and state tournaments. If we win the state tournament (as we have done in previous years), TJSO moves on to nationals!
Teamwork
TJSO is built on strong teamwork. Each event is done with at least one partner, requiring close cooperation between teammates. Furthermore, our community strives to support and uplift each individual.
Want to learn more about our events? Read the official rulebook!
---
Why Do TJSO?
With such an incredible selection of clubs and activities available at TJ, why Science Olympiad? Because here at TJSO, we offer an experience unlike any other.
We're a team competition. Every event requires you to work with a partner. Some require you to work with two. Unlike many activities that are more individual, Science Olympiad is centered around teamwork and communication.
We strive to maintain an inclusive environment. We don't have an "A team" or a "varsity team" – all three of our teams compete at the same level. We're also happy to welcome new members, regardless of pre-TJSO experience.
We are teammates first and competitors second. TJSO members are always willing to help each other out.
We have different event formats. If building things gives you joy, we have those. If working with your hands is anathema, though, perhaps you'll feel more comfortable with our study events. (We also have events that involve both a test and a build!) Your inner experimenter is begging to do a lab? We have lab events galore! You definitely won't be lacking for choice.
You can be as specialized as you want. Want to focus on a specific field of science? Sure! Want to be all over the place and do a bunch of unrelated events? That works too!
We aim for a balanced workload. We know our members have other interests and commitments, and TJSO isn't meant to consume all your time.
The team experience is our number one priority. What last longer than the medals and trophies, and what ultimately mean more, are the memories and experiences that our team members gain with one another.
We have fun! From games of Mafia and Skribbl to staying up late together after competitions, TJSO is a lot of fun. And why shouldn't it be?
---
TJSO at Competitions
---
Why We Love TJSO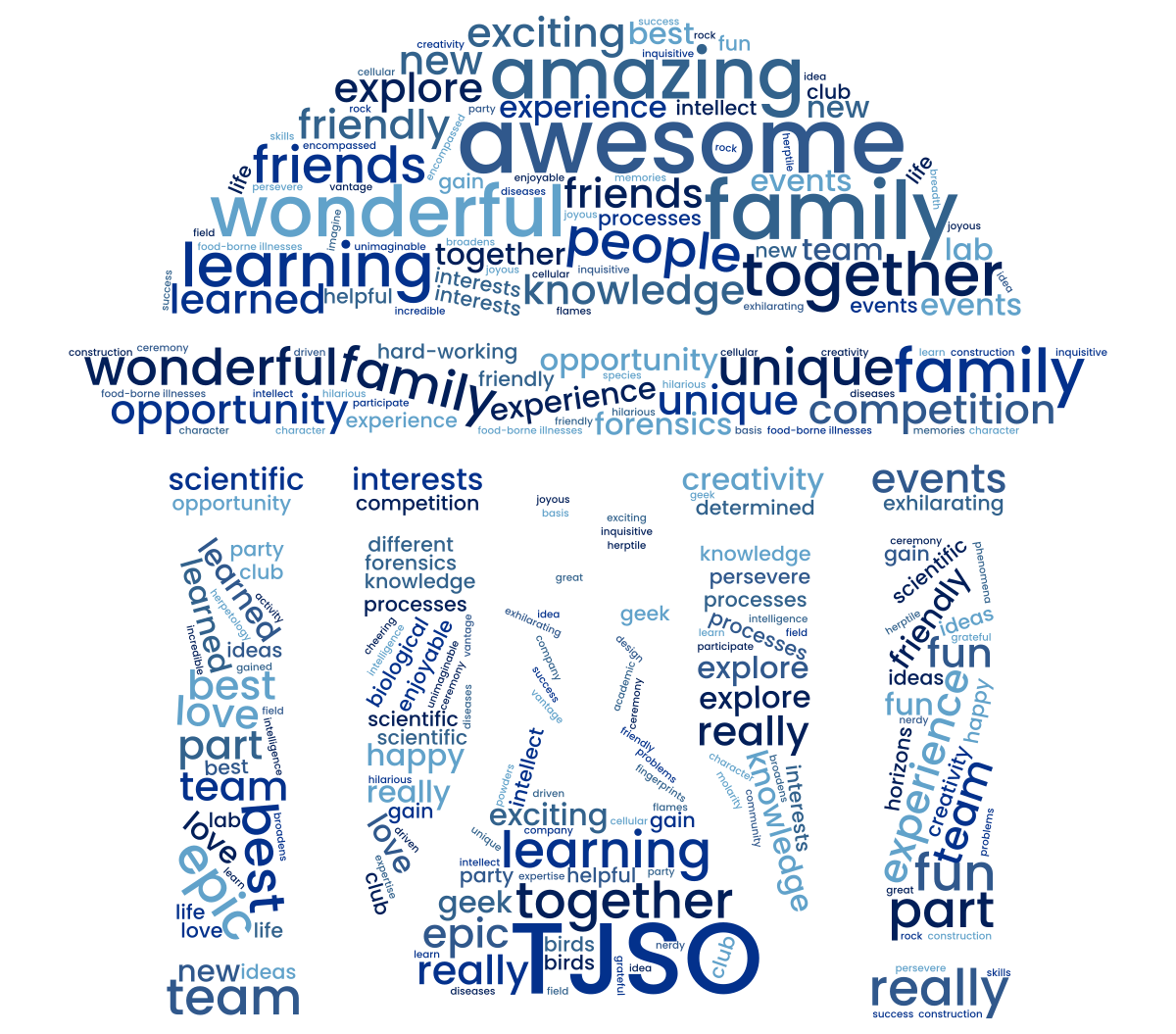 "TJSO taught me what it feels like to be part of a team."
"It's not everyday that you get to see the green flames of boric acid, the cellular structure of bat hair, or the optical properties of synthetic polymers. These phenomena only come to light at Science Olympiad."
"Science Olympiad is not only an impetus for building upon your interests, but also a chance to explore new fields of study."
"I love TJ Science Olympiad because, through it, I've gotten the opportunity to explore areas of science we barely touched in class."
"My favorite aspect about the club is continuing to form a wide net of friends that are super motivated and brilliant, yet also fun to talk to and celebrate with after competition."
"[TJ Science Olympiad is] the best community of people I've ever had the pleasure of being a part of."
"All the events I studied are not heavily focused [on] in school, so I definitely gained a wider perspective on biology and geology, and ultimately learned more."
"I couldn't be more grateful for the memories, knowledge, and experience I've gained through my four years of competing on the TJ Science Olympiad team."
"TJSO is so integral in my life that I can call it my second home and second family – I wouldn't have enjoyed the TJ student lifestyle if it weren't for TJSO and the people in it…"
"I've discovered that rocks are my life."
Acknowledgements
TJSO would not be what it is without the support of several organizations. We'd like to thank the TJ administration, the TJ Partnership Fund, and the TJ Academic Boosters for all they've done and given over the years.
---
If you have more questions, please peruse our FAQ page and feel free to contact us at tjhsstscio@gmail.com!